So on Sunday (28 March) I headed up to the University and joined a group of people headed off to
Upper and Lower Avatar Grove
outside
Port Renfrew
. We sorted ourselves into cars and headed off to Jordan River.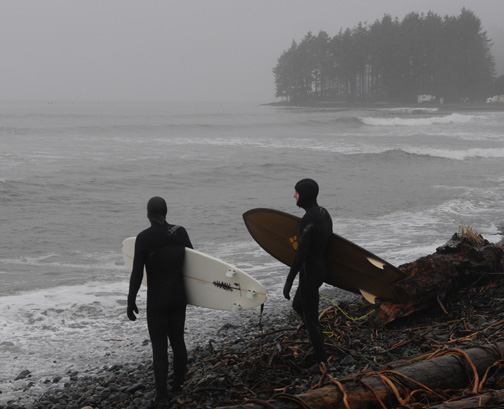 Jordan River was overwhelmed with cars--and not just the convoy of 23 that was us. There was a storm cell off the west coast of the island that was pushing in some perfect 1.5 metre waves onto the beach, and there were surfers littering the ocean like cormorants.
There were enough surfers littering the waves that I totally understood the fierce territoriality of the local surfers.
We reconvened, introduced ourselves, discovered that there were about 80 of us, and headed off to meet in Port Renfrew. The four other people I was car-pooling with had not been to Renfrew--heck, a couple hadn't even been as close to the west coast as Jordan River (JR isn't the west coast--it lies on the south of the island, protected by the Olympic Peninsula). So they found the drive up to be quite interesting.
We convoyed out of Renfrew about fifteen kilometres out and up a logging road so old it's actually paved. We pulled over and got our rain gear on--we were heading into a temperate rainforest and it was (naturally) raining.
There is no trail off the road--one of the group leaders cast about for a bit until he found the place he'd entered the forest on his last trip, and led us up. The big trees are so close to the road that I suspect that there were still people climbing off the road when the first hikers arrived at the trees.
I find being in the forest liberating. The silence, the humidity, these things release something in me. But that wasn't true for everyone. I ended up adopting four or five young Japanese ESL students who hadn't really understood the email that said "Hiking boots. Rain forest. No trails." And other similar things. They did, thankfully, have on water resistant jackets, but were wearing a variety of sneakers (including one set of low cut Converses), and jeans, tights, and other such unsuitable clothing. As we walked, they kept having trouble getting over fallen logs, or broke through the duff and dropped a leg in between roots up to mid-thigh. I started helping them over things, showed them where to put their feet, and suchlike. There didn't seem to be any point to them hating the day.
We made our way to the gnarliest tree found so far:
TJ Watt, who took the above photo, was with us on the trip. It really
is
an amazing tree.
I took a bunch of video and edited together some of the shots into the short video
below.